Global Furniture Manufacturing Industry
The global furnituremanufacturing industryhas annual revenue of nearly $400 billion,according to the World Furniture Confederation.The industry involves furniture sales for the home and office,and is particularly sensitive to changes in economic climate.The market was hit by the economic recession due to unemployment and low business consumer confidence.
US furniture manufacturers are facing increasing competition from imports,and some are turning to outsourcing to lower expenses by moving part(s) of their production process overseas.US firms also import increasing amounts of good from overseas regions such as China.Typical materials used include wood,synthetics,glass,leather and metal.Apart from furniture such as chairs and desks,firms in the furniture manufacturing industry also produce products such as blinds,shutters,showcases,cabinets,mattresses and countertops.
Overall the global manufacturing industry is fragmented,although certain market segments can be highly concentrated,as is the case with office furniture manufacturing.According to Hoovers,the top 50 firms represent less than 40% of overall industry revenue.
Office Furniture Market
The US office furniture market saw a decline in 2009 to under $7,850 million,a near 30% drop on the previous year's figure of over $11,150 million,according to the Business and Institutional Furniture Manufacturer's Association.The market has seen a slight turnaround in 2011,climbing almost 6% to $8,300 million.About three-quarters of the product mix uses non-wood product,with wood representing the remainder.Seating accounted for around a third of furniture produced in the US in 2010.About half of US office furniture exports go to Canada,which imports around 40% of furniture into the US,down from over 60% ten years ago.China also represents about a 40% share,up from under 15% in 2000.
The US wood office furniture manufacturing industry was worth close to $3 billion in 2010,according to Supplier Relations US,representing nearly 35% gross profit.Imports came from more than 65 different countries at a value to $0.7 billion,with exports worth almost $120 million going to over 100 different countries.Domestic demand for US wood office furniture industry reached almost $3.5 billion in 2010.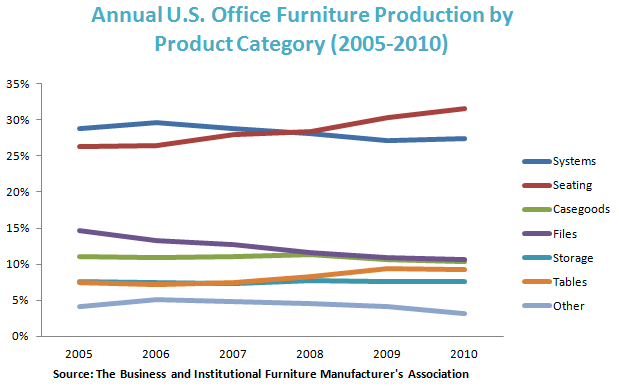 Home Furniture Market
The home furnishings retail market segment refers to household textiles,furniture,and floor coverings.Furniture lead the global home furnishing retail market in 2010,generating revenue of almost $325 billion,or almost 62% of the overall market value.
In the global bed and bath furnishings market,residential construction and consumer demand will fuel market growth.Demand for original design in bed furnishings in developing economies is growing,especially in Latin America and Asia-Pacific.